ExcelReport

Link


GL Pivot Solution
Analyse your general ledger data quickly in Excel Pivot tables and get standard reports for free
While the video mentions this functionality was part of BudgetLink, we've recently turned it
into a standalone product that can be used and configured separately.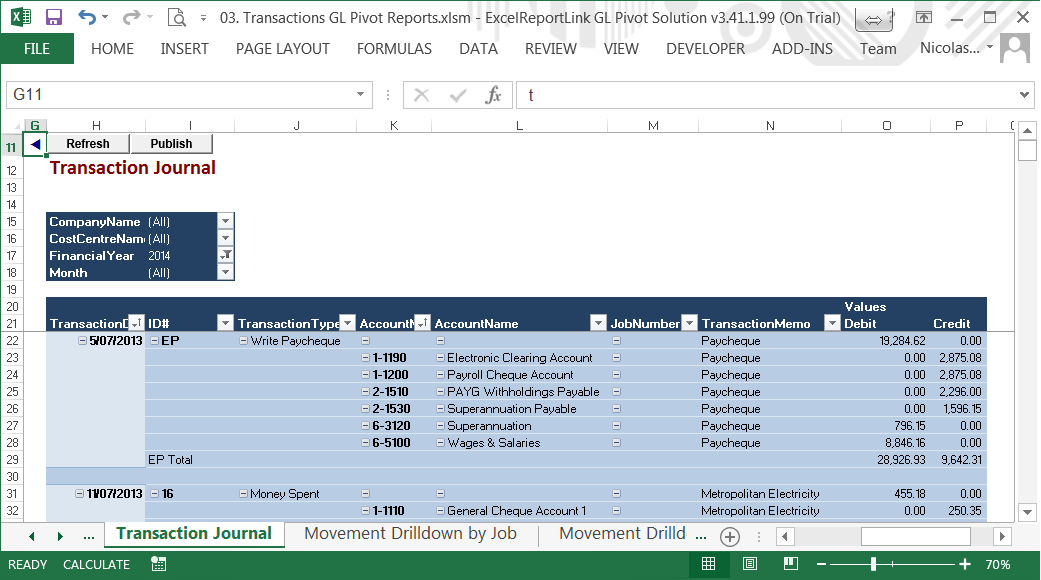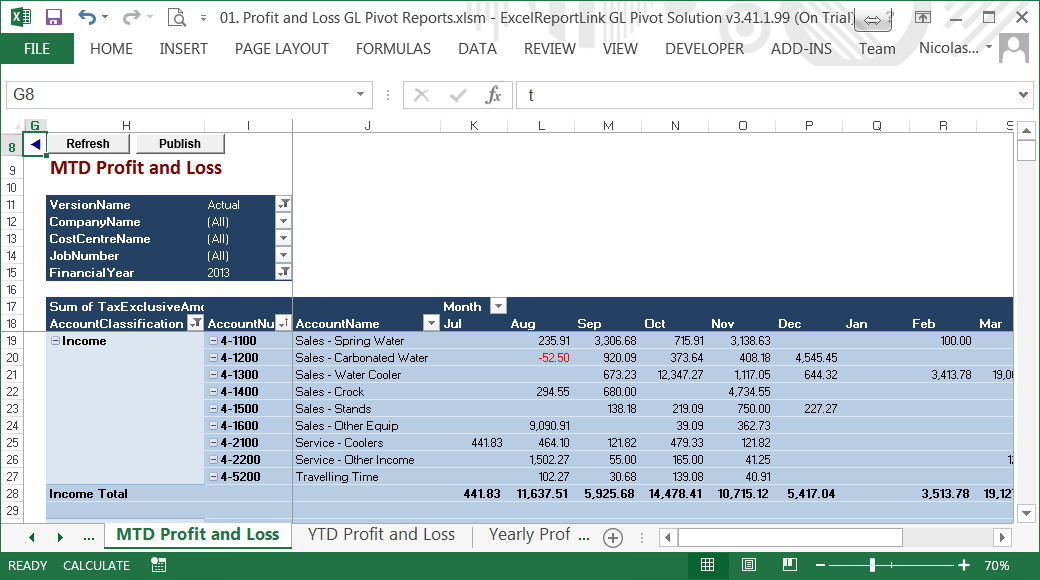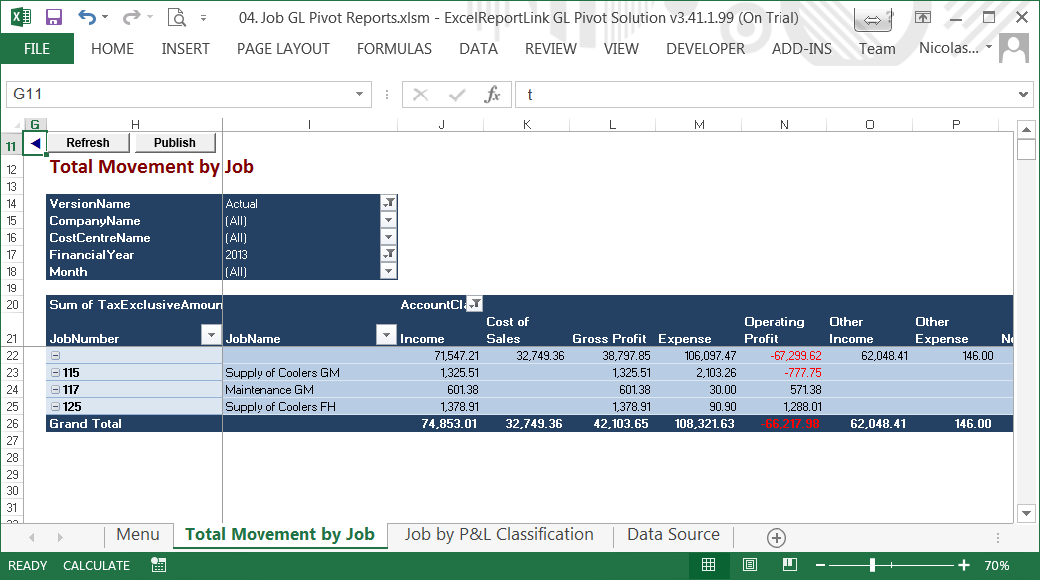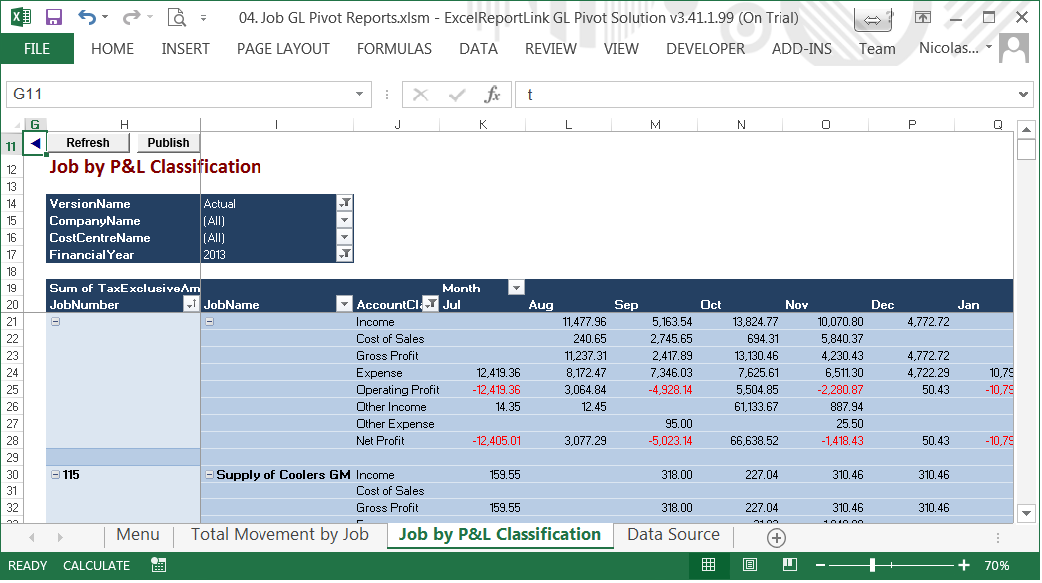 Click on images above to enlarge.
Accounting Packages come pre-loaded with many useful reports. However, there are always some fields or layouts that users would like included on their reports that are not available.
ExcelReportLink GL Pivot Solution is a free add-on to MYOB, QuickBooks and Xero which solves this problem. It does so by transforming your accounting data into data sources which can then be manipulated using Excel's Pivot Table functionality.
Out of the box, ExcelReportLink GL Pivot Solution comes loaded with the following general ledger based reports:
Profit and Loss Reports;
Balance Sheet Reports;
Transaction Reports;
Job and Category Reports;
Multi-company Reports;
Custom Reports.
ExcelReportLink GL Pivot Solution can produce reports with the following dimensions:
Companies, Accounts and Versions (actual and budget);
Job and Categories;
Dates, Months and Financial years;
Drilldown to Transaction number, type and other fields;
Many other dimensions (customers, suppliers, items) with some level of customisation.
ExcelReportLink GL Pivot Solution is free to download and use. We are providing a free edition of this tool to the MYOB community.
However, if you want more power and flexibility, try out ExcelReportLink GL Pivot Solution Standard and Pro Editions.
Subscribe to an Edition.
Works with…
System Requirements
Microsoft Excel 2007 to 2013 (32-bit or 64-bit) *
Microsoft Access 2003, 2007, 2010, 2013 (optional) (32-bit or 64-bit) *
* Note, the 32-bit version of Microsoft Excel and Access is required when connecting to the older version of MYOB (19.10 or older).
How to get started
Download ExcelReportLink GL Pivot Solution.
Upgrade to the latest version.
Subscribe to an Edition.
Not ready to download ExcelReportLink GL Pivot Solution just yet, contact us and ask us any questions you may have.
Need Help with ExcelReportLink?
See ExcelReportLink's wiki online.
For more on consulting, support and customisation, see Consulting and Support. Note that training, support and consulting is billable.
Want to stay up to date with ExcelReportLink GL Pivot Solution?
Check out our blog for the latest news and updates.
Read more about upgrading to the latest version.
Contact us for assistance, more information or a conversation about your individual requirements.